Rent a Firearm at Shooters Range

Don't Own a Firearm?
No Problem!
"TRY BEFORE YOU BUY, FIREARM RENTAL PROGRAM!"
Thinking about purchasing a firearm, handgun, revolver, or rifle? Come on into Shooters Range and rent a comparable firearm!

When you rent a firearm, you can try out a comparable firearm before you buy it! With our "Try, Before You Buy Program," you will be able to make an educated decision before making a purchase and better understand if shooting and owning a gun is for you!

At Shooters Range, you can rent a firearm of your choice, just because you want to shoot! You do not have to have any intent to purchase. This way, you can shoot, practice, and participate still!

When you Rent a Firearm to Shoot at the Range, you will also need to purchase the ammunition. Don't worry; Shooters Range will make sure to have the proper ammunition for you to purchase during your range time.

In addition to ammunition, you will need to be wearing some form of eyewear safety, such as reading glasses or safety glasses, as well as safety ear coverings or plugs.

If you don't have the safety gear, we have them for purchase onsite.

Shooting Range times are offered in 30 or 60 minute time periods.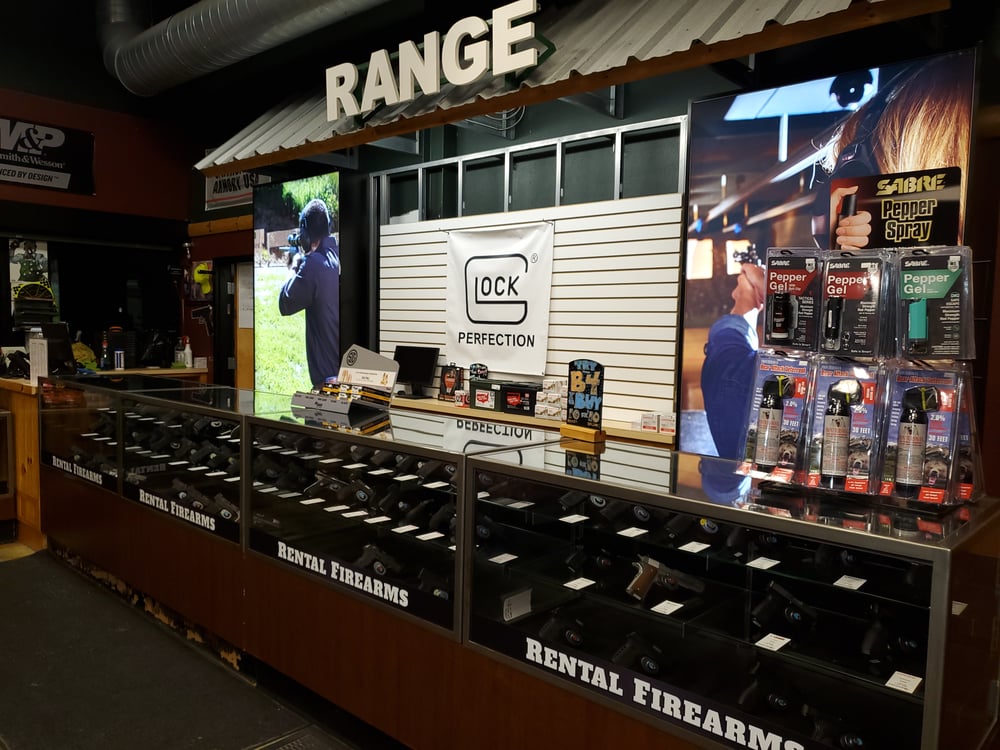 RANGE PRICING
Below Show an Overview of Pricing and What it Includes!
Shooters Range Offers an Eight Lane, Indoor, Firearm Shooting Facility.

Lanes are For Rent as Single or Double!

Range Time is offered on a first-come, first-serve basis, only!

The Below Pricing Includes
BYO
(Bring Your Own)
The Cost of Range Time!

BYO Pricing
$12.00
30 minutes
One person

Minimum Time
30 minutes

Does Not Include Firearm Rental or Ammunition
BYO Pricing
$18.00
60 Minutes
One person

Maximum Time
60 Minutes

Does Not Include Firearm Rental or Ammunition

BYO Pricing
$30.00
60 Minutes
TWO people

Minimum Time
60 Minutes

Does Not Include Firearm Rental or Ammunition

RANGE RULES
Here are some more details about the Range!

Standard Shooting Targets are provided with your lane rental!

BYO, Stands For, Bring Your Own.

Customers can bring their own (Gun) and or firearm with or without ammunition.

You can also Rent a Firearm and Purchase the Necessary Ammunition at Shooters Range Too!

There is a maximum of two people on one shooting lane at a time.

Minors 11 years of age and older must be accompanied by their adult, sign a consent form, and be with the minor during range time.

We are PRO Youth Hunt and encourage youth and mentors to come to the range and practice anytime, but to have safety as the number one priority!

NOTE:
All Range Shooters Must-Have Protective Ear and Eyewear On and In The Range At All Times!

If you don't have your own protective gear, we have very affordable options for both youth and adults onsite!

No Appointment Necessary!

The Busiest Times for Firearms Range Rental is at Night from 5 pm-7 pm and Afternoons on the Weekends!